ORGANIC Potato Dumplings
Add water to the bag content, mix and let sit briefly. On a surface dusted with coarse flour, shape 3 logs and boil them in salted water. Serve as a side dish.
Price excl. VAT
33,90 CZK
Price incl. VAT
38,99 CZK
The package contains:
300 g of mix
To this you add:
300 ml cold water
Preparation instructions
Mix the bag content with 270–300 ml of cold water, make a dough, which you shape into 3 logs 5–6 cm in diameter. Boil on a low heat for 15–17 minutes in water to which you have added ½ teaspoon of salt. Cut the logs into about 25–30 slices.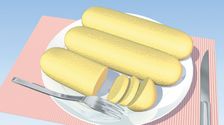 Labeta advises how to go about it
...you can add pieces of roasted meat, cured meat or caramelised onion to the dough 
…boil dumplings filled with fruit, which you sprinkle with fried breadcrumbs, poppy seeds, cinnamon, sugar to taste and drizzle with melted butter
Ingredients
wheat flour*, dried potato flakes* 19%, table salt, turmeric*
* from controlled organic agriculture
Typical nutritional values
in the product made up according to the preparation instructions
| | per 100g |
| --- | --- |
| Energy value [kJ/kcal] | 752/ 177 |
| Fat [g] | 0,6 |
| of which saturated fatty acids [g] | 0,3 |
| Carbohydrate [g] | 37,8 |
| of which sugars [g] | 1,1 |
| Fibre [g] | 1,1 |
| Protein [g] | 4,4 |
| Salt [g] | 0,12 |
The whole package yields approximately 4 servings